Ultimate Hybrid Portable Basketball Hoop
Item No. SPA0014
Missing your size? Get notified
Don't want to wait for shipping? Find in-store with the
Store Locator
Description

Product Details

CA Residents

FEATURES

SPECS

You May Also Like

Reviews
Description
The ultimate mix between water and sand, this portable hoop system gives you a place to dial in your jump shots and tighten up your crossover. The Ultimate Hybrid base calls for a mix of sand and water and has a cover that keeps the ballast out of sight for a clean look. This hoop is equipped with an acrylic or glass backboard with arena-style padding and a screw jack lift system allowing for infinite adjustments from 7.5 feet to 10 feet so even the youngest of players can have a ball. So get ready for those neighborhood games and make unforgettable memories on the court!
Product Details
Backboard size: 60", and 54" available
Tempered glass and performance acrylic board with arena-style padding
16" offset
Arena Slam breakaway rim
7.5' to 10' height adjustment
Screw jack lift
Detachable handle
4" square or 3.5" oval steel pole with 20° angle
Ultimate Hybrid® base fills with 19 gallons of water and five 50-pound bags of sand
Rebounder on base
Base dimensions: 49.8" x 29.2" x 10.2"
Two wheels
Includes ground stakes
Designed for outdoor play
Packaging dimensions: 73.90" x 54.10" x 27.75"
Backed by Spalding's Warranty
⚠

WARNING: CA Prop. 65

This product can expose you to Carbon black (airborne, unbound particles of respirable size), which is known to the State of California to cause cancer, and Bisphenol A (BPA), which is known to the State of California to cause birth defects or other reproductive harm. For more information go to www.p65warnings.ca.gov.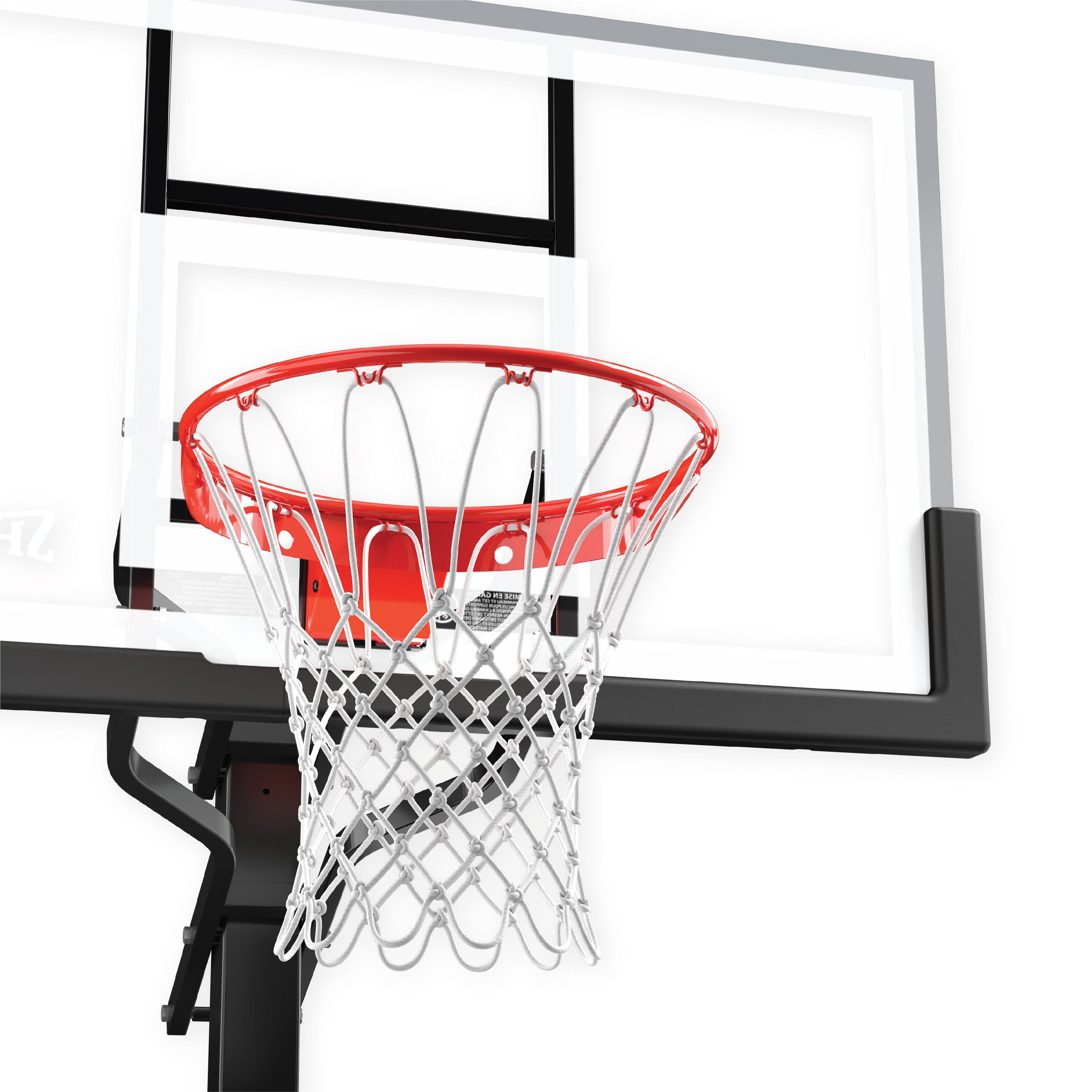 Performance Backboard With Aluminum Trim & Board Pad
Best rebound performance that's ideal for competitive play
Screw Jack With Infinite Lift
Adjusts height from 7.5' to 10' in infinite increments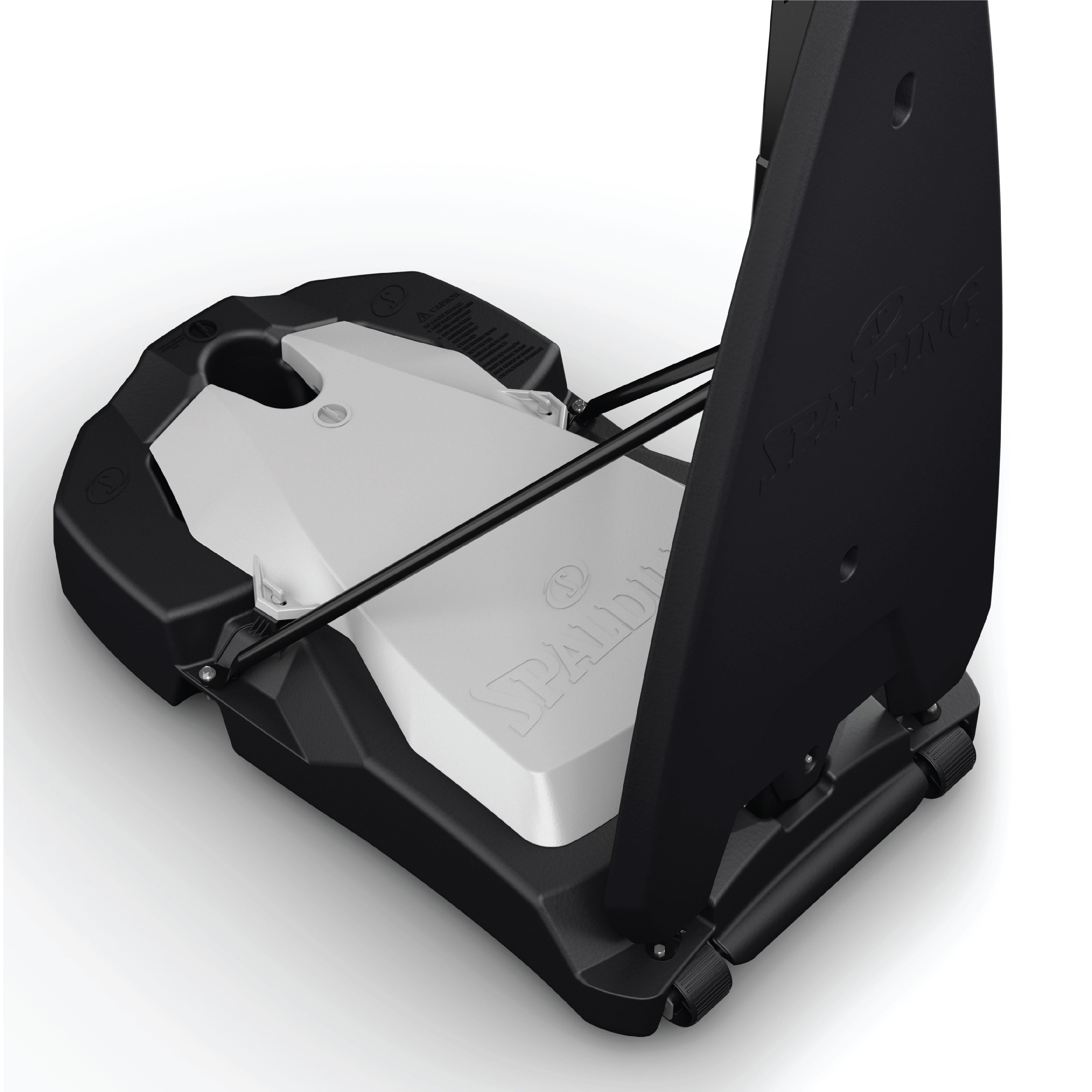 Ultimate Hybrid Portable Base
Base holds 19 gallons of water and four 50 lb. bags of sand for ultimate stability
| | | | |
| --- | --- | --- | --- |
| | | | |
| | Ultimate Hybrid® 54" Acrylic Portable Basketball Hoop | Ultimate Hybrid® 60" Acrylic Portable Basketball Hoop | Ultimate Hybrid® 54" Glass Portable Basketball Hoop |
| Price | $1,299.99 | $1,399.99 | $1,499.99 |
| Size | 54" | 60" | 54" |
| Material | Acrylic | Acrylic | Glass |
| Lift System | Screw Jack | Screw Jack | Screw Jack |
| Authentic Board pad | Yes | Yes | Yes |
| Aluminum Trim | Yes | Yes | Yes |
| Steel Frame | Yes | Yes | Yes |
| Rim | Arena Slam® | Arena Slam® | Arena Slam® |
| Pole Size | 3.5" Apex Angle™ Pole | 3.5" Apex Angle™ Pole | 3.5" Apex Angle™ Pole |
| Rim Height | 7.5' - 10' | 7.5' - 10' | 7.5' - 10' |
| Base Dimensions | 49.8" x 29.2" x 10.2" | 49.8" x 29.2" x 10.2" | 49.8" x 29.2" x 10.2" |
| Base Gallon Capacity | Ultimate Hybrid® base fills with 19 gallons of water and five 50-pound bags of sand | Ultimate Hybrid® base fills with 19 gallons of water and five 50-pound bags of sand | Ultimate Hybrid® base fills with 19 gallons of water and five 50-pound bags of sand |
| Packaging Dimensions | 68.90" x 39.76" x 24.41" | 73.90" x 54.10" x 27.75" | 57.87" x 38.58" x 16.93" |
| Package Weight | 135 LBS. | 145 LBS. | 183 LBS. |