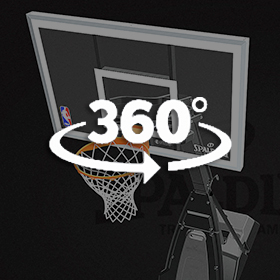 Description
For over 30 years Spalding has been revolutionizing portable backstops, and we are proud to showcase the Arena Renegade® at the NCAA Final Four Tournaments and in all professional arenas across the United States and Canada. Its state-of-the-art design allows this premium unit to stand out on-court or on television. When the top competitors play on this system, why wouldn't you want it in your facility?
Product Details
Official backstop of the NCAA® and professional leagues
New Slim Profile provides greater audience visibility
Improved structural rigidity by increasing the size of the safety lock and telescopic adjustment tube
The hidden cable channel on the boom helps give a cleaner appearance during play
Stability lock helps decrease sway
Available in 10' 8" and 8' extensions to meet all professional, collegiate, high school, and international specifications
Arena Renegade® SuperGlass™ Prosb™ Backboard(413-100) (42" x 72") with limited lifetime warranty
Slam-Dunk®Precision 180sb™ Goal with a limited 7-year warranty
Protective padding covered in 30 oz. vinyl
Counterweight of 1500 to 2000 lbs. for superior stability
E-Z Bolt™ Backboard padding is available in 12 color options
Revolutionizing Portable Backstops
Built for basketball's biggest stage.